Râmâyana, the Epic of Râma
One of the most popular epic poems of India, the Râmâyana tells the story of Prince Râma, the legendary hero in the form of which the god Vishnu incarnated to destroy the demon Râvana in order to restore peace in the three worlds. Thanks to the oral tradition of the storytellers who from village to village sang the exploits of Râma, and later through the written works – the first of which was that of the poet Vâlmîki, the Râmâyana gave birth to innumerable musical compositions, dramas and choreographies in all of India and in countries across the Far East
Based on Vâlmîki's version, this show, created in 2006 in Geneva, proposes an adaptation of the Râmâyana through Bharata Nâtyam dance, Carnatic music (South Indian traditions), the projection of a video illustrating the story with a narration in French.
A danced ritual opens the performance, followed by a prologue and three acts where dance and music alternate with the projection.
The danced performance particularly emphasizes the theatrical aspect of the Bharata Nâtyam style. Thanks to the traditional codes of representation, the dancer evolves from one character to another playing with the masculine/feminine polarity. In the mouvements and attitudes of each character, she infuses a "Tândava" type of energy: viril, vigorous, even violent; or a type of "Lasya" energy: graceful, delicate, tender.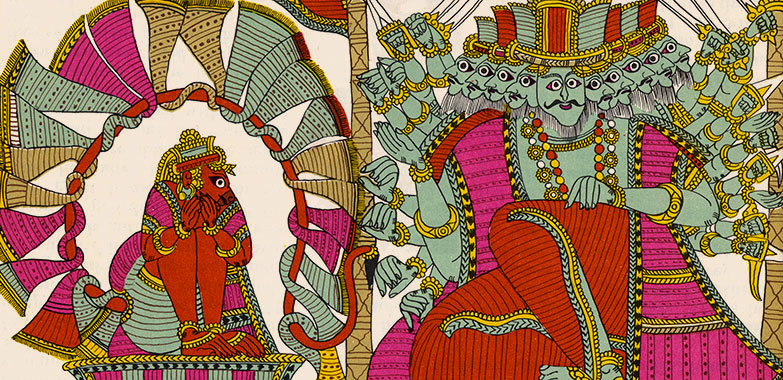 The video has been done from a series of 18th century drawings created by the Chitrakathis, or itinerant storytellers of the State of Mahârâstra, to illustrate their narrative of the Râmâyana. Based on this oral tradition, this show also includes a part illustrated and narrated by these ancient images. Thanks to the video techniques, these drawings have been treated in order to constitute additional scenes, including some animated.
The narrated text in French is an adaptation that retraces the general framework of the history of Râma taking into account the characters and situations as represented in the dance and in the drawings.